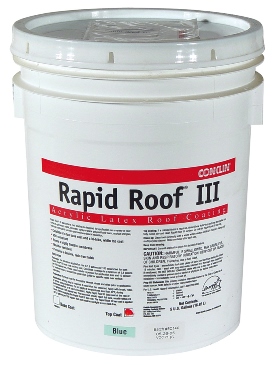 Today, we build upon our earlier blog posts about Conklin, taking a close look at Conklin roofing reviews.
With so many roofing product brands available on the market, building owners have a great many options as to which they can choose for their roofing protection. Many building owners have found Conklin, the originator of the roofing industry's acrylic roof coatings, to be a great provider of lasting solutions to their needs. However, as often happens with any popular roofing product, as their user base has grown, Conklin roof coatings have earned some bad reviews.
This is not much of a surprise. A roofing product can fail or break down due to improper installation, a contractor being careless in application, an installation taking place in less-than-ideal weather conditions, and a host of other factors. On the whole, though, Conklin roof coating systems' record speaks for itself: since 1977, these roofing materials have been installed on over 2 billion square feet of roofing throughout the United States. In fact, many of the roof restoration systems installed back in the mid-late 1970s are still on the job today, guarding against extreme outdoor conditions and providing great energy-saving benefits.
Below the reviews compiled from the internet and our very own contractors, we cover factors that demonstrate Conklin roof systems offer tremendous value.
Reviews from Contractors and Business Owners
"I just want to drop you a note on how pleased we are with the Roof System you put on for us at Premier Audio in Bismarck. The energy savings has been awesome. We have experienced roughly 30% savings in heating gas costs this winter compared to previous winters with almost the same temperatures. The difference in the summer was amazing in our shop area. In the hotter days this summer it was about 25 degrees cooler in our shop than it was outside with our overhead doors open. It is normally about 5 degrees cooler in the shop compared to outside summer temperatures."
– Don Braunagal, Premier Audio, Bismarck, North Dakota
"To Whom It May Concern: Five Star Roofing with Choice Roof Contractor Group installed foam roofing with acrylic coating, from Conklin, on two of my motels over three years ago. We have been averaging $600-$700 per month saving on our heating/cooling bills. There has been no leaks with this roofing system. We highly recommend their work and their service is exceptional!"
– Dan Frank, Bismarck Motor Inn, Bismarck, North Dakota
"Conklin's spray foam roofing system minimized the messy tear-off and the high cost of material disposal at the local landfill. I am happy with the successful roofing application and love the idea that I have the best and brightest roof in town."
– Tom Banks, developer of West Jefferson, NC-based 85,000 square-foot retail shopping center and residential housing project
"Last fall, we put on our thirteenth Conklin roof since 1983 and all are without a leak. This is a multimillion dollar development: some of the condominiums sell for over $300,000. We can't afford leaks. I recommend this system to anyone with a flat roof that doesn't want to be bothered with leaks."
– Ken H.
"The roof of our building was deteriorating with rust. Installing the Conklin MR System extended the life of the roof. After installation we now enjoy a dry building. We also like the annual inspection as part of the Conklin warranty. It has been a good investment."
– Bill R.
"We live in an area where the temperature ranges from 25 F below to 100 F above zero, so the roof has a lot of movement and weather related stress. This process sealed our leaks, stopped the rust and allows our students and staff to stay dry. We didn't know we were going to get increased energy efficiency when we started, but we are spending less to cool the building. We are going to have more of our buildings done with the MR System."
– Keith M.
"Thank you for solving a multitude of problems we were having with the steel roof. The installation of the Conklin MR seamless roofing system corrected the problems and made its appearance look great. One of my partners, who is a former commercial roofing contractor, and I agree that the Conklin roofing system was a great alternative."
– Robert K., Tuscarawas Valley Development, Inc.
"Anybody that has doubts whether a white roof coating makes a difference needed to be in our building this summer on those 100 degree days. Usually, the air conditioners struggle and it gets very hot in the shop. With our new white roof, the air conditioners were cycling and customers and employees were commenting on how nice it was inside the building."
– Roger Lange, manager of Twin Valley Industry
"I'm in charge of roof maintenance for dozens of buildings, and we're always looking for better ways to protect and seal our galvanized roofing. Five years ago we ran a test. We coated half of a 200,000 sq ft roof with the Conklin MR system. The other half got new corrugated sheet metal, sealed with a silicone coating. A year later, the silicone roof had six leaks and the Conklin roof had none."
– Charles F.
"When my warehouse burned, I was worried about my structure. I was sure the heat from the fire would destroy my roof. I walked around on my roof after the fire and was very impressed how it held up. I couldn't tell you what the temperature was, but it was hot – very hot. The decision to use Rapid Roof III on my surface proved to be a great financial decision for my business."
– Anonymous satisfied warehouse building owner
The Conklin Advantage
Need an Expert?
Our group works together to provide:
Larger Base of Knowledge
Group-Wide Accountability
One Source for All Projects
Set Standards for Service
More Peace of Mind
There are very few bad reviews of Conklin posted online. If you take a quick scour across the World Wide Web, you will find very few negative Conklin roof coatings reviews. Normally that would indicate that a brand is not well-recognized or in much use. However, because Conklin roofing has been around for over 40+ years, it is an established brand. In fact, Conklin paved the way for many roofing products being engineered after its creations, giving building owners even more choices for lasting, reliable protection value.
Conklin roofing system contractors receive first-rate, direct factory training for proper roofing application. Whether a roof contractor is a seasoned professional or a budding entrepreneur new to the roofing industry, if he wishes to be a recognized Conklin contractor he must go to Conklin roof systems training. There, contractors of all experience levels are given hands-on training and classroom instruction in proper product application for all commercial roof types. At the end of the two-day training, the contractors are given certification as well as a 3 percent discount on Conklin products. For a contractor looking to break into commercial roofing, this training represents one of the best training options available today.
If a Conklin roof has a warrantied problem, the non-prorated guarantee covers it. Most "Conklin-treated" roofs are backed by renewable, non-prorated warranties that cover both labor and materials. Because they do not lose value over their duration, that means if the roof has any issues during the coverage period, a building owner will pay for no out-of-pocket expenses. These non-prorated warranties covering labor and material inputs stretch for up to 20 years depending on the product used, a remarkable offering in the building industry.
Conklin materials have a very low warranty claims rate. In addition to comprehensive warranty coverage, Conklin products feature a very low warranty claims rate: less than one-half of one percent.
Conklin's non-prorated warranties are transferable. Yet another advantage, but one that is more customer-value-driven than performance-related: should a building be sold from one party to another, the Conklin warranty covering that building's roof can be transferred to the new owner.
These materials have numerous certifications. Because reputation and certification are perhaps the most important indicators of quality in the building industry, Conklin has carefully engineered its products according to quality standards. Highly respected rating organizations including the International Code Council, UL, the Cool Roof Rating Council, Factory Mutual, and the Florida Building Commission have found Conklin products to meet high standards for tremendous energy efficiency and high-performance.
These are just a few indicators of why Conklin has a 40-year reputation for excellence. At Choice Roof Contractor Group, our members exclusively use these products for commercial roof jobs because of their track record.
Should you need a trustworthy roofing professional to service your roof, contact us today at 800-670-5583 for a free local roof estimate.