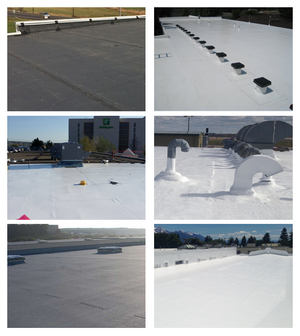 If you're a commercial or industrial building owner in need of a new roof or looking to put up a new structure, it can seem overwhelming as you debate between the many different types of commercial roofing materials out there in the marketplace. How can you know which one is the best choice for your specific building project?
Some of the most common types of commercial roofing materials include:
EPDM (ethylene propylene diene monomer)
TPO (thermoplastic polyolefin)
PVC (polyvinyl chloride)
SPF (spray polyurethane foam)
Asphalt rolls
Acrylic coatings
Keep reading as we explore the pros and cons of these various roofing materials to help pinpoint the right option for you!
EPDM
Ethylene propylene diene monomer (EPDM) roofing is commonly known as rubber roofing.
PROS: One of the biggest advantages of an EPDM roof is its price, as it is one of the most inexpensive roofing materials available. It is also comparatively easy to install and is very lightweight, so the roof deck doesn't need to be reinforced. A high-quality EPDM roof can have a life expectancy of up to 20 years.
EPDM roofs are relatively durable and do not scuff or scratch easily. Further, though EPDM roofing material is black and, therefore, absorbs the heat, it is not easily damaged by UV rays.
CONS: Now, for the drawbacks of EPDM roofing. If you're look for an aesthetically pleasing roof, this is probably not the type you want to choose. When rolled out on a roof, EPDM looks a bit like an unfurled inner tube. The black color, which is the color EPDM most typically comes in, can add a great deal of stress to your air conditioning systems because it absorbs the majority of the sun's rays and exterior heat. EPDM is available in lighter colors to help it better reflect the heat, but opting for a lighter color will hike up your cost by about 30 percent.
Another disadvantage is EPDM roofs are prone to puncturing, so a hailstorm, falling branch or even a service person with the wrong kind of shoes can tear a hole in your roof. While it's easy to repair a puncture, water can infiltrate and cause major problems if not patched quickly.
Additionally, it's important to note that adhesives are used to bond seams. This is a drawback because there are longer-lasting methods available today when using other types of commercial roofing materials. Also, when an EPDM roof isn't fully adhered, water can travel underneath the membrane. This makes detecting the point of a leak more difficult and also allows a leak to do far more damage to the underlying structure.
TPO
A thermoplastic polyolefin roof(TPO) has become a very popular option, especially among commercial building owners.
PROS: Like EPDM roofing, TPO is one of the more inexpensive types of roofing material and is actually less expensive than EPDM in most cases. Because TPO is white, it helps reflect the sun, thus reducing heat buildup inside your structure.
Like EPDM, TPO is light weight and can also be installed in different ways; it can be directly fastened to the roof deck or fully adhered with adhesives to the roof deck. It is also resistant to corrosion and breakdown, isn't prone to algae growth or mildew, and it doesn't need to be pressure washed.
Another huge benefit is having heat-welded seams vs. the use of adhesives. When using TPO, the plastics in the membrane are literally melted together, creating a far more dependable bond between seams. With seams being mostly responsible for roof leaks, this is huge!
CONS: Surprisingly, the drawbacks to TPO roofing are plentiful. First, its quality varies widely from manufacturer to manufacturer, so unless it comes from a highly reputable maker you really don't know what you're going to get. TPO also comes in a broad variety of thicknesses, which further adds to the consistency problems associated with this type of roof.
Because the top layer of TPO roofing material is laminated, weak points are introduced that can cause shrinking, cracking, crazing and deterioration. TPO rolls also typically come in small widths, which means there are lots of seams when they're installed, and this further adds to the roof's weakness and fosters potential problems.
Another concern is fire. TPO itself is not fire resistant. Watching a couple videos on YouTube will show how dangerous this roofing system can be if the building ever catches fire and proper retardants aren't integrated.
Overall, many consider TPO to still be an experimental membrane and is currently in the 4th generation of formulation. The Roofing Contractor's Institute has ranked very high on the singly-ply membranes most problems list.
PVC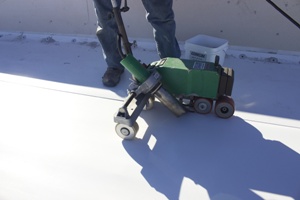 PVC, or polyvinyl chloride, roofing is composed of two layers of PVC roof material with polyester acting as a reinforcement between the layers. The layers also include additives that make the material UV-stable and flexible, while also preventing curing. Like EPDM and TPO, it is lightweight.
PROS: On a flat or low-slope roof, PVC roofing's lifespan is comparatively long, and it is also known for its durability. PVC is additionally resistant to moisture, fire, wind and chemicals, and the heat welding installation process used with PVC roofs creates a permanent bond between each roofing sheet and keeps the seams securely together.
CONS: There are a few downsides with PVC roofing. For one, it is an expensive option. PVC also tends to shrink over time, which can pull the seams, lift the corners and cause leaks. In cold weather, an older PVC roof is prone to shattering and puncturing, and PVC roofs can also be difficult to repair, as the hot air welds used on a new PVC roof don't react well with an old roof.
Overall, PVC and TPO are usually compared a lot since they have similar advantages and are both heat-welded. The main differences are that PTO is more puncture resistant, PVC is more chemical resistant, TPO is better for the environment, and PVC is better for fire resistance. Either choice is usually better than EPDM, though.
SPF
A spray polyurethane foam (SPF) roof is made from a form of plastic that transforms from a liquid into a solid in a matter of just seconds, while also expanding about 30 times as it dries.
PROS: SPF roofing is a sustainable choice that can pay for itself in terms of energy savings. A good multi-layer SPF system (such as spray foam covered with layers of premium acrylic roof coating) has outstanding tensile strength and durability, with a reflective top coat that helps building owners save on energy costs. With proper maintenance and regular roof coatings, an SPF roof can last 40+ years or more. The expansion properties of an SPF roof enable the product to effectively seal off gaps and crannies, making the entire roof watertight and airtight.
Unlike the other options, SPF provides insulation to save both heat and A/C, enhances building structural support while being lightweight, self-curbs around protrusions, and can be used to correct ponding water or more effectively channel water to drains by simply spraying more spray foam in areas that need built up.
CONS: Because SPF roofing is the product of a chemical reaction between two liquid compounds, it must be applied in a carefully calibrated way or the spray foam that results will not last long-term. It can take a roofing contractor a long time to master the application of this specialized system, and specialized training is needed, as well. SPF roofing can also be difficult and expensive to remove – which may be necessary if not properly maintained.
Asphalt Rolled Roofing
Asphalt rolled roofing is commonly used on buildings with low-slope roofs. It is composed of the same materials that are used to make asphalt shingles.
PROS: Asphalt rolled roofing is one of the more inexpensive roofing types, and it is also a relatively easy type of roof to install.
CONS: Asphalt rolled roofing has a very short life expectancy compared to other types of roofs, typically lasting only about 10 years before it needs to be replaced. Since this type of roofing product is rolled out and then stuck together at the seams, problems commonly develop where the rolls join together, which increases the necessity for maintenance and repairs. It's also not energy efficient.
Acrylic Roof Coatings
Acrylic coatings can be applied to a variety of roof types and are the preferred alternative to replacement approximately 80% of the time. A good system will require a primer, base coat, fabric (either full roof or only on seams), more base coat on top of the fabric to embed it, and then a final top coat. The end result is a seamless, fully adhered membrane that is robust enough to withstand heavy hail and could easily last as long as TPO and PVC with proper maintenance.
Although it isn't mainstream yet, these coating systems can actually be installed directly to ply-wood in new construction. The fully adhered, water-tight, seamless, and renewable characteristics of a good roof coating cannot be matched by anything else on the market. In fact, one of our original members installed this system on his own newly constructed office.
PROS: Acrylic roof coatings are UV resistant, very reflective and easy to work with. They also provide building owners with a prime balance between performance and cost. Repair couldn't be any easier as caulk is usually all that is needed. Importantly, towards the end of life, simply putting another layer of "top coat" to the roof could add as many as two decades of new life.
CONS: When weathering is a factor, acrylic products are prone to losing mil thickness. They also need to be applied at 50 degrees or above. Additionally, performance is generally poor in ponding water situations, so flat roofs may need to have depressed areas built-up beforehand.
Get Advice from the Experts
Need an Expert?
Our group works together to provide:
Larger Base of Knowledge
Group-Wide Accountability
One Source for All Projects
Set Standards for Service
More Peace of Mind
Choice Roof Contractor Group is an association of trusted and endorsed roofing contractors who are among the best in the nation. The group was founded to provide building owners with more peace of mind while giving contractors a strong base of resources for their companies.

When you're in a quandary regarding which roofing product to choose for your commercial building, a Choice Roof Contractor member can offer you the professional advice and services you need. The group utilizes products that are created in the United States, keeping along with the trend of providing reliable, local services for business owners and property managers.

Call (800) 670-5583 today to speak with one of our members and to find a CRCG-endorsed contractor in your area!