[tribulant_slideshow gallery_id="1″]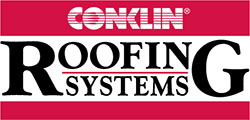 In this page, we review a list of important accessories used with the Conklin Flexion™ Single Ply Membrane Roofing System:
Flexion™ Bonding Adhesive
360-S™ Approved Sealant
Flexion™ PVC Coated Metal
Flexion™ Inside Outside Corner
Flexion™ Fastener Covers
Flexion™ Universal Stack Collar
Atlas FR-10™ Slip Sheet
Fasteners, Screws, Anchors, and Straps
Flexion™ Bonding Adhesive and its approved equals are the only solvent-based adhesives that you can use to attach Flexion Membrane with the approved substrate.
This adhesive is an excellent thermoplastic membrane certified by the Environment Protection Agency's (EPA's) stringent ENERGY STAR® program. Its unique chemical composition offers exemplary protection from fire and the harsh weather elements.
Accepted by major code approval bodies, the product can be used for application over new as well as old roofs.
Store at temperatures above +40°C.
360-S™ Moisture Cure Urethane Sealant or its approved equals are the only water-block sealants you can apply as a termination sealant when installing Flexion Membrane over approved substrates.
Flexion™ PVC Coated Metal is used as a raw material to make flashings and weld them directly to the Flexion™ CPA Single Ply Membrane.
The product is available as 26-gauge galvanized steel sheets (G-90) laminated with a Conklin Flexion film of minimum 24-mil thickness and covered with PVC coating on one side.
Using this product, you can make and install flashings rapidly and easily on site. To make a flashing, you have to give the required shape to the product and directly head-weld the Flexion membrane on to it.
Flexion™ Inside Outside Corner is a pre-formed accessory made of PVC. By combining the outside and inside corner into one, single product, these corners make installation simpler, lower the inventory, and provide peace of mind.
Flexion™ Fastener Covers are made of PVC and reinforced with Elvaloy to cover and protect any exposed plates or fasteners on roofing membranes. Available in 5-inch diameter sizes, these are gray on one side and white on the other.
Flexion™ Universal Stack Collar is called universal because you can cut it to fit standard round stacks of between 1-inch and 6-inch diameter. For stack collars of more than 6-inch, you can use Flexion unsupported membranes directly on site. The collar minimizes inventory.
Atlas FR-10™ Slip Sheet is used to comply with certain UL (Underwriters Laboratories) fire standards. You can use the product to cover substrates such as built up roofing to prevent percolation and chemical reactions with Flexion™. The sheet needs a 6-8 week lead time.
Fasteners, Plates, Screws, Anchors, and Straps: Trufast is Conklin's line of roofing fasteners and accessories, reputed across the roofing industry for innovative design.
All fasteners must:
Be made of the same type as the metal being secured. Common materials for these include zinc, galvanized steel, cadmium-plated steel, or stainless steel
Have minimum 1-inch (25 mm) embedment
Comply with Factory Mutual Standard 4470 for corrosion resistance
Fasteners are made from top-notch carbon steel #12 diameter and are complete with anti-back-out threads, deep recess #3 Phillips drive, and tailored drill point for wood and metal decks.
Moreover, fasteners are covered with corrosion-resistant coatings and are certified by major roofing standard institutions such as Underwriters Labs (UL) and Factory Mutual (FM).
Fastener Plates: viz.:
2-inch Membrane Plate
3-inch Insulation Plate
Coated with Galvalume, these plates offer evenly distributed holding power over substrates such as Flexion™ single-ply members, recover broadstock, insulation, and Hy-Crown™.
The plates comply with the FMRC 4470 standard and adhere to or even exceed the wind uplift standards in most applications. Made by precision stamping of heavy duty steel, the 2-inch 3-inch plates are among the most widely used sizes.
Use Conklin's barbed plates where FM safety approval is necessary. The 3-inch insulation plate is available in 26-gauge.
Trufast #12, #14, and #15 are corrosion-resistant (ASTM D-4470), self-tapping fasteners with modified buttress threads and FMRC authorization for mechanically fastening Conklin membranes with concrete, steel, and wooden decks.
Termination Bars are made by extruding aluminum bars and serve to fasten Hy-Crown™ and Conklin™ coatings on vertical surfaces. 8-inch center punched, these are available in 10-feet lengths.
Optional Equipment
Here is a brief description of optional equipment:
Steinel™ Hot Air Welding Kit (HAWK) enables rapid and easy completion of single-ply roofing installation by heat-welding the membrane. Armed with mechanisms to change temperature settings and air flow, the HAWK is small and easily handled.
Conklin-prescribed specifications for such devices are 110 or 220 Volt welding guns that can provide weld temperatures of 900°F and above. The HAWK is equipped with cutting-edge capabilities usually available in large, expensive units. The complete welding kit consists of:
Steinel HG 2300 EM Heat Welder
Motor with Lifetime Warranty
On-Site-Changeable Heating Element (1 additional unit)
40mm Silicone Pressure Roller
Slit Nozzles (2 units)
Heavy Duty Plastic Portable Case
Automatic Hot Air Welding Tools must be of 3,000 Watts minimum power rating with 220 Volt capacity, temperature control, and variable speed.