Having a roof replaced on your commercial building can seem like a daunting task.  After all, you aren't a roofer, you are a business person running whatever type of company that building protects.  How are you supposed to know if you are being treated fairly and if the estimate you are receiving is complete?
First, you should anticipate that the roofing company will want to conduct an inspection.  It is unfair to expect any form of estimate without allowing for time and opportunity to assess your current roof situation.  Some roofing contractors may choose to conduct their inspection either on the roof or via drones.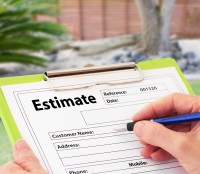 Second, give the contractor some time to prepare that estimate.  There are some contractors who are comfortable doing an "on the spot" quote, but others want to take the time to ensure it is a complete and full estimate.  You wouldn't commit to an important project without doing your due diligence, would you?  Consider granting your commercial roofing contractor the same respect and understanding.
Part of the pre-estimate process frequently deals with discussing the type of system you are considering.  Not all roofs are appropriate for all systems nor do all commercial roofing professionals work with all types of potential roofing systems.  Sit down with the contractor and discuss your business goals as a part of this process.  Identify if your goals include energy efficiency, chemical resistance, improved longevity, or cool roof technology integration.  This information assists the contractor in determining the BEST system for both your building and your business.
Elements of a Commercial Roofing Estimate
Every contractor is different, so we've put together an overview of various elements you should look for in your commercial roofing estimate.
Materials:  Exactly what type of materials, including manufacturer, is the contractor planning to use?  Like cars, there is a wide variety in quality and cost between different manufacturers.  A good commercial contractor may even prepare you options between XYZ and ABC manufacturers on the same type of roofing system.
Labor.  Some contractors choose to include the cost of labor within the materials portion while others choose to make this a separate line item.  There is nothing wrong with either method.
Protection.  Again, some contractors include the cost involved in protecting your property and business from damage within their overall cost projection.  Other contractors choose to show this as a separate line item on their estimate.  Either is fine, but it is important that you clarify the steps that will be taken to protect your existing business while that roof is being replaced.
Warranty.  This area is important.  Your estimate should include a written outline of the warranty offered, both in terms of materials and labor.  You should anticipate paying more for a really great long-term warranty that includes ongoing maintenance.  Think of it as insurance for that roofing investment.
Timeline.  Your estimate should include the timeframe anticipated to complete the job.  Please notice the word "anticipated".  Like every other business, there are times when the unexpected occurs.  Roofing contractors are subject to the vagaries of weather or supply chain interruptions to a greater extent than many other industries.  That timeframe is an estimate based on past experience.
Payment Due Dates.  Many large projects allow for payments to be made through the project completion.  If that is the case with your commercial roofing project, your estimate should include the exact date each payment is due, along with terms for noncompliance by either party.
Elements that Affect Your Replacement Costs
There are many elements that go into determining the cost of replacing a commercial roof.  Each is considered and calculated into that final estimate you will receive.
Need a Local Expert?
Our group works together to provide:
Larger Base of Knowledge
Group-Wide Accountability
Set Standards for Service
More Peace of Mind
Size.  This is pretty obvious.  The size of your roof is a HUGE consideration in the overall replacement project.  Not only in materials and labor, but additional considerations such as debris removal, movement of materials over the scope of the project and even increased safety considerations all can play a part.
System.  Different roofing systems have different costs.  That is also pretty straightforward.  If you and your contractor determine your roof is best suited for a PVC system, you will pay more than if it is determined that shingles will work better.  Why?  Because PVC costs more than shingles.
Roof Style.  This one may come as a surprise, but roofs with multiple peaks and valleys will generally cost more per square foot than flat roofs.  Why?  A good part of it is due to increased labor costs as those steep angles require more time and more protective equipment than an open flat roof.
Roof Access.  If your contractor is going to have to hire a crane to get materials and personnel up 10 stories, it is going to cost more than if they have to move those same items up 1 story.
The bottom line is there are a LOT of considerations that go into a good commercial roofing estimate.  That is the best reason to work with a qualified, reputable, professional commercial roofing company.  If you are looking for an estimate, feel free to contact the Choice Roof Contractor Group at (800) 670-5583 or complete the inquiry form and we will put you in touch with a roofing company in your area.