Here at Choice Roof Contractor Group,
we are always looking for ways to help anyone who owns or manages a piece of commercial real estate. Commercial roofs will require some regular routine maintenance, and there are times when they will need repair work or replacement. This leaves commercial real estate owners looking for local roofing contractors who can successfully repair, replace or maintain their roofs. Commercial property is an investment, and a good leak-free roof helps to protect this investment.
We have assembled a nationwide team of experienced roofing contractors, and we have made it super easy for any commercial real estate owner to find and locate these highly trained commercial roofing specialists in their area. We are proud to introduce our easy to use interactive roofing contractor map. It gives commercial building owners a bird's eye view of the entire United States. From Florida to Washington and from California to Maine, there is an experienced local commercial roofing company within our network.
Commercial property owners can search by city, state or zip. It is as simple as clicking on the contractor closest to you. From there, you can contact the Choice Roof Contractor by either phone or a contact form. Now it is easier than ever to locate an experienced commercial roofing contractor in your area.
What Type of Commercial Roofs Do You Service?
Our nationwide group of contractors perform repairs and restore every single type of commercial roof that exists including:
● Metal roofs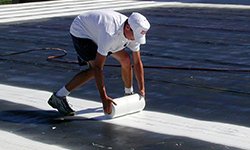 ● Flat roofs
● Slate roofs
● Low slope roofs
● Built-up or BUR
● Asphalt both rolled and shingle
● EPDM rubber roofs
● Hot tar and gravel
● Thermoplastic TPO
Every type of commercial roof is covered!
Why Choose a Choice Roof Contractor?
All of our members use Conklin roofing products not because they have to, but because Conklin roofing products are the best within the entire commercial roofing industry. Conklin has been leading the roofing industry for over 40+ years when they introduced their first commercial roofing products way back in 1977. Since then, Conklin roofing products have been applied to over 2 billion square feet of roof.
The Conklin Benefit
Conklin roofing products offer several great benefits that are very difficult to ignore. A Conklin roof coating can extend the life of an existing commercial roof system by as long as 20 years with just one application, and our members back this with up to a 20-year, non-prorated guarantee. There is no need for expensive roof replacement or costly tear-off expenses!
Conklin roofing products are also ENERGY STAR® compliant. This means that Conklin roofing products have met or exceeded the strict standards put in place by the Environmental Protection Agency for energy conservation.
Conklin roofing products are
leading the industry in energy efficiency. They have been labeled "cool roof" systems because they reflect as much as 85% of the sun's heat from the roof. This can reduce the temperature of a roof by as much as 90 degrees. A cooler roof can equate to massive energy savings. In fact, the entire roof can pay for itself in as little as 7 years' time!
Finding a trusted commercial roofing contractor in your area is no longer a problem. Our new interactive map will help you find the right local roofer for the job in a matter of seconds! To access our map, click "Find a Local Contractor" on the top-right corner of any page, or visit https://www.choiceroofcontractors.com/find-a-commercial-roof-contractor.