At Choice Roof Contractor Group, we're committed to offering building owners and managers quality roofing services with top-performing products. That's why we use Conklin roofing products. For 40+ years, these energy-efficient roofing solutions have been used nationwide for all kinds of roofing needs.
But why do we require new members to go to Conklin roof systems training? And for that matter, why should experienced commercial roof contractors go to yet another product training program?
The answer is simple: increased profit potential with added credibility and our network's complete support. Commercial roofing is one of the biggest investments which building owners can make. And the commercial roofing market is very strong for professional roof contractors who can meet complex problems with capable expertise, solid workmanship, and strong-performing products.
Conklin Roofing Products and Increased Profitability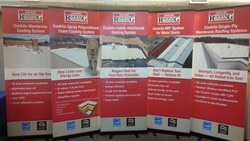 In the ultra-crowded roofing products marketplace, there are many products which don't provide the reliable, long-term protection customers need. In this sea of low-performing alternatives, Conklin products present a viable, long-lasting, cost-saving solution – as seen by its almost 40-year record of nationwide excellence. And roofing contractors can leverage this performance value and record for their own business growth.
With our network's support, roofing contractors can increase their profitability by offering quality services with these premium products. And it doesn't end there, either. From the start, contractors who join the network will be given immediate support and benefits.
Let's cover some of these benefits and more below.
Why Conklin Roof Systems Training?
Complete product training and support. In the commercial roofing industry, every successful roofing company is founded upon use of good, reputable roof products. Conklin roof products have been applied on 2+ billion square feet nationwide, and after going through this complete training, you can build on this exceptional reputation for your own growth.
Notably, none of Conklin's roof systems training cost goes to our network. Once you've gone through training, you get our total network support – with no additional costs out of pocket for you.
Immediate benefits and support. Unlike other product manufacturer training programs, Conklin roofing training isn't something with a waiting period of weeks and months ahead of the actual event. Rather, you receive immediate benefits from the start after signing up for the program. These benefits include:
◦ A customized plan to springboard your business with Conklin products
◦ Immediate ability to start bidding on jobs and getting signed contracts with the help of our veteran Conklin contractors
◦ Immediate connection to our most experienced contractors for strategizing
◦ $150 worth of roofing samples and marketing materials from Conklin
◦ Compelling sales and marketing content and presentations for effective roof sales
◦ Hundreds of pictures for presentations and other purposes
◦ Free social media setup and assistance ($400 value package at no cost)
◦ Connections to our trusted partners for increased opportunities to bid and close on jobs
◦ And much more
In other words, there's value from the get-go.
Insider marketing and sales strategies for effective growth. Roof systems training programs are great for learning how to apply new products. But how about selling them? At Conklin's product applicator training, you'll learn effective marketing and sales strategies from contractors with years of experience in the business.
Because we're successful when you're successful, our team will make sure you have the knowledge and resources you need to accelerate your business growth. And new contractors enjoy a nice, sizzling steakhouse dinner on us, in the process.
Meeting new members in person. The foundation of any successful business is strong business relationships. We take this to heart, and you'll meet us personally at most of Conklin's roof systems trainings. It offers the unique opportunity to hear of your unique business story, and to strategize as to how to grow your share in the $5.3 billion-and-growing commercial roofing market. It also lets us completely verify that all new members have professional training under their belt.
Thereafter, our team is there for assistance, support, answering any question, and more. It's all without any recurring membership fees.
Become an official Conklin product applicator. After a contractor has gone through Conklin roof systems training, they become an official Conklin applicator. They have approval to install warrantied Conklin roof systems. And they can depend on Conklin's strong, 35+ year reputation for closing sales and increasing profitability.
You can also turn to our senior mentors for assistance at any point. And if it's needed, they can come and help you with roofing jobs on-site – like they have been doing here on this big, 400,000+ square foot roof.
What Else?
Our qualified endorsed members get the following benefits:
Occasional commercial roofing leads
Increased job prospects via our nationwide connections with franchises like Burger King
Lifelong mentorship and group discussions with veteran Conklin contractors
More job prospects from partners like Pride Public Adjusters
Dedicated, accessible marketing support
Discounted pricing on industry-leading Conklin products
And more!
Learn more by visiting the following link: Contractor Benefits.
If you'd like to see how you can benefit from our support, please give us a call at (800) 670-5583. We look forward to working with you on your own success story!